UrsaNav is the exclusive, world-wide, Value-Added Distributor of Nautel's next generation high-power NL Series Loran-C and Enhanced Loran (eLoran) transmitters. The Nautel NL Series transmitter, unveiled in 2009, sets the standard for next generation LF transmitters, with superior performance, a rugged design, and operational ease. In 2013, Nautel delivered the company's first production model NL40, a seventh-generation (e)Loran transmitter, the culmination of over six years of collaborative development between the two companies. This transmitter was delivered to UrsaNav for further preparation and delivery to the client.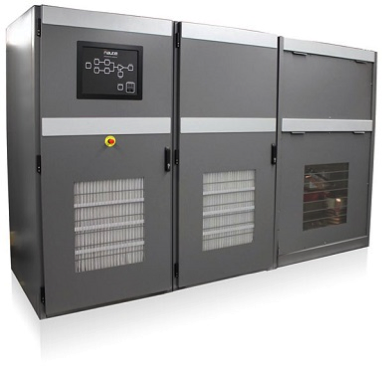 This standard model Nautel transmitter went through rigorous testing at Nautel's Hackett's Cove, NS facility prior to delivery. It met or exceeded all requirements of the U.S. Coast Guard "Specification of the Transmitted LORAN-C Signal". Testing was conducted into a simulated antenna matching the characteristics of a standard U.S. Coast Guard 625-foot Top-Loaded Monopole. Additionally, the transmitter was operated at 700 PPS, almost 2.5 times the previous requirement of 300 PPS.
The NL40 is a member of the NL Series of navigational transmitters from Nautel. NL Series transmitters are capable of Loran-C, eLoran, Chayka, and eChayka operation in any combination at power levels up to, and exceeding, one megawatt. Built-in "future-proofing" for next generation LF signals, waveforms, and modulation techniques is incorporated along with exceptional pulse stability and enhanced control.
Optional models of the NL40 are available with Variable Reactive Tuning and Pulse Shape Pre-Equalization that allow transmission of alternative waveforms and the use of advanced modulation techniques. Prototypes of this technology have demonstrated the capability to transmit at over 4,000 PPS and with several 'high-speed' modulation schemes. Additional variants of the technology are capable of operating from the upper portion of the VLF band well into the MF band.